This week I tell her of a convicting passage. James 1, to be specific.
"If any of you lacks wisdom, let him ask God, who gives generously to all without reproach, and it will be given him. But let him ask in faith, with

no doubting

, for the one who doubts is like a wave of the sea that is driven and tossed by the wind. For that person must not suppose that he will receive anything from the Lord; he is a double-minded man,

unstable

in all his ways." 1:5-8
Pausing between each conviction, I read.
Doubt . . . check.
Like the waves of the sea . . . check.
Double-minded, unstable . . . check, and check!
YUCK!
She asks me what I do when I come across this passage.
"
Get mad and move on."
I respond, bitterly.
She smiles. That smile like she knows something I don't. And I'm quite certain she does.
We linger.
And I really can't stand reading that passage to her even now as it is reaffirming, etching, scratching into my brain, my thoughts of myself, my views, my inadequacies and I move on to avoid these exact feelings, but now here we are and I'm the one who's brought us here . . .
She stares.
She probes.
She asks.
And I explain that I
understand
that I am this way and I
understand
that I fall short, but I am mad that He convicts me because
I
just can't
fix
it.
So now what?
I am convicted.
I can't change me.
So now what?
She states, "
maybe God convicts you because he wants to go there W I T H you. He wants YOU to go there WITH HIM."
And my world stops for a second.
I am HIS. I am HIS responsibility. It is NOT my job to FIX me. Not only that but he wants to do life WITH me?! The beauty of togetherness?
For a moment I am so loved by my Creator because he wants to go to those dark, uncomfortable, ugly places WITH me and I
know
this and I can
feel
this. These truths of: "
you are not alone", "I do not abandon you to yourself", "I see you", "I hear you",
they ring so loudly. . . even if just for a moment.
And I have little response.
I am emotional writing this because it is such a real moment for me and because maybe the next time I come across this passage, or any other passage, I
will
INVITE him in. And maybe the next time you reach a similar place, you will, too.
Because walking with Christ isn't about perfection or fixing ourselves, it's about
relationship
.
It's about allowing him to see us, all of us. And for me, in this season, it's about remembering WHO he is, and who I am.
He is the potter, I am the clay.
And I need to be reminded of this daily, even momentarily.
***************************************************************************
I'm reading a book called "Unglued" by Lysa Terkeurst. I was drawn to the book because the slogan on the front cover says: "Making wise choices in the midst of raw emotions". . . or something like that. I can SO relate. My recent favorite quote: "
A soul who believes she can't leave . . . doesn't
."We tell ourselves so many things about who we are, our characters, what we WILL be, etc. We trap ourselves within our own labels: "
I am unorganized.
", "
I am such a mess.
", "
I am emotionally unstable.
", "
I am a failure.
", "
I am a control freak.
" etc., etc., etc.
But we don't have to stay "here." Here being relative to the place
you're
in. That's the beauty about who my God says He is: a relational God who wants to know and go to the unorganized and failure places of our souls; who already
sees
those places anyways.
I
believe
this is Who he is. I
want
to know this God. For now my journey is
allowing
him there. Allowing him in my "here."
Can anyone out there relate? Do you embrace conviction? Run? Try to do the work yourself? Or do you invite? What does it look like for you?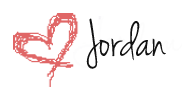 "A soul who believes she can't leave . . . doesn't." - Lysa Terkeurst